University of Michigan, Ross School of Business:
The Ihangane Project, the University of Michigan Ross School of Business and the William Davidson Institute have partnered with Ruli District Hospital to identify means of improving the cost-effectiveness, quality, and sustainability of its health care delivery system.
A Path to Solving Ruli Hospital's Patient Tracking Challenges
Team Members: Yasuo Tsurumi, Penelope Mallinckrodt, Kevin Wooster, Annie Snider, & Matthew Downer
Project Objective & Origin:
The goal of Team Rwanda 2013 was two fold. The first objective was to assess the state of implementation of various past projects. The second objective was to identify simple tools for streamlining patient tracking through the rural health care system in the catchment area of Ruli District Hospital. Through a process of research coupled with field observations and stakeholder interviews, we have identified additional opportunities to improve healthcare delivery by focusing on three key areas: Behavioral Dynamics, Patient Tracking Process Improvements, and Change Management/ Implementation.
The team did a fantastic job of identifying the types of interventions that were likely to be integrated into daily practice, as well as interventions that are less likely to be adopted. They have also developed a very interesting model of Patient Tracking that involves collaboration with the Mutuelle. 
2012 William Davidson Institute Fellow:
Daniel Bickley~
As a dual MD-MBA student at University of Michigan, Dan brought a unique perspective to our Sustainable Hospital work. His role was to understand the complex chain of information flowing between clinicians and administrators and between different levels of the Rwandan health care system. He identified information currently being shared, as well as information that should be shared but is not for a variety of reasons. Given the realistic constraints of a rural health system, he implemented several simple system efficiencies that improved communication and broadened the skill sets of hospital staff by providing basic computer literacy training. We hope to see his recommendations expanded to other communities in Rwanda. We are excited to say that he will continue his good work in Chicago as an Emergency Medicine Resident! (pictured here with Ihangane's Sean Morris)
2012 WDI Multidisciplinary Action Project (MAP) Team~ Improving Data Collection & Usage at Ruli District Hospital
Team Members: David Bernardi, Gregory Fisher, John Ranz, Bryson Smith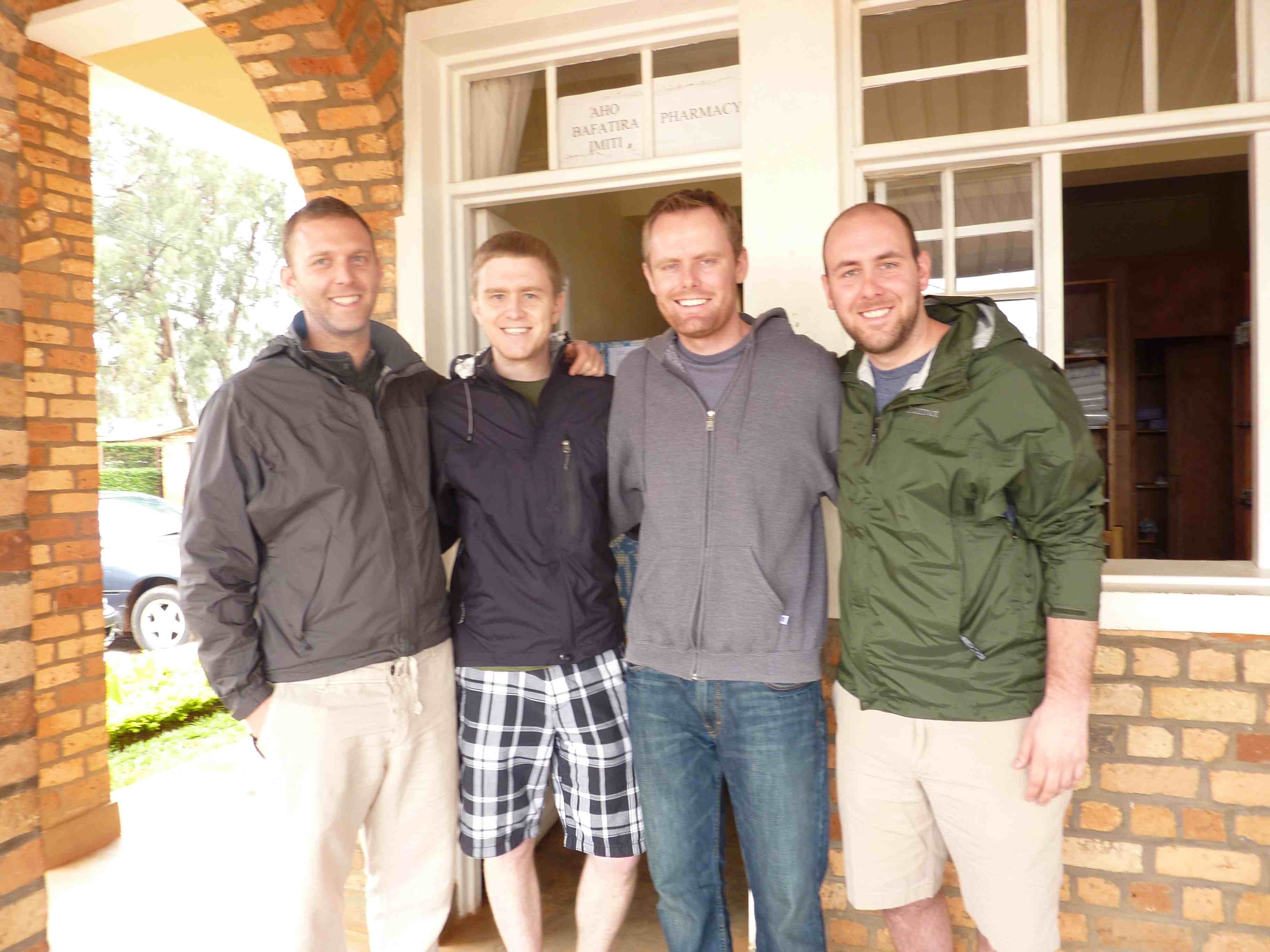 Project Objective & Origin
The objective of the project was to build upon the recommendations of the 2011 team to improve the communication system between health centers and the hospital by streamlining data collection and usage. Recommendations included more efficient use of staff members, eliminating duplicative activities, and instituting an electronic version of the referral system between health centers and the hospital.
Developing Efficient Communication Systems between Rural Health Centers and Ruli District Hospital
Team members: Katy Bossart, Chris Chojnacki, Kristin Girouard, Jessica Meyer, Katie O'Hare

Project Objective & Origin
The objective of this project is to create real and impactful change in the Ruli District Hospital care system by identifying the challenges in the Ruli District Hospital out-patient referral system and proposing solutions to correct and/or alleviate the effects of these challenges. Our project emanated from Ross MBA Greg Thorne's research in the summer of 2010 regarding the unpredictability of patient flow from regional referring Health Centers to Ruli District Hospital.
2011 William Davidson Institute Fellow~
Sean Morris
Sean is a graduate student in the Master's of Public Health program at University of Michigan. As a William Davidson Institute (WDI) fellow, he brings his passion for nutrition and sustainable agriculture to our nutrition program.  During his Rwanda-based internship, Sean will assess the existing community-based nutrition program to identify barriers to its effectiveness, make recommendations for improving the impact of the program, and identify key stakeholders for farming cooperatives that would include income generation for cooperative members and cultivation of grains required to locally produce fortified sosoma. He is pictured here with his fellowship counterpart, Huriro Uwaca Theophila (Theo). Theo's background in Epidemiology made this a powerful duo!
William Davidson Institute Global Impact Fellowship:
Greg Thorne, 2010 MBA Intern~  Greg is currently an MBA student at the University of Michigan Ross School of Business. He was chosen to work in Ruli, Rwanda as a Williamson-Davidson Institute Global Impact Intern because of his clear commitment to international development and poverty alleviation. During his internship, Greg worked with Ruli District Hospital to address issues of financial sustainability. He performed an extensive evaluation of the administrative and financial aspects of the hospital, and provided recommendations for ways that the hospital can improve productivity and revenue generation. He also provided a detailed report to The Ihangane Project and the hospital outlining potential business models for local fortified sosoma production. He became a friend to many in Ruli, and he will be missed…..especially on the basketball court!